Environmental Advisory Council
Purpose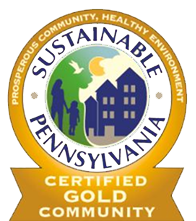 The EAC is an advisory council that focuses on environmental issues that directly and indirectly affect the Township and its residents. Among the EAC's monthly tasks are the review of current development plans and discussion of other current or anticipated issues. These issues include waste collection, recycling (batteries, leaves, cardboard, medicine), Tree City USA (since 1998), Arbor day, World Wide day of Play, and the Bird Town Pennsylvania program. For the past several years, the EAC has been airing the EAC hour every day at 6 am and 6 pm on the government access cable channel.
The EAC's reviews translate into recommendations on the environmental protection standards regarding submitted plans. These comments, in accordance with Township ordinances, are then submitted to the Planning Commission and Township Supervisors to be addressed as part of the overall review of a development project. At the request of the Township Supervisors, or in response to relevant opportunities, the EAC provides advice to the Township Supervisors. This advice may include letters of comment on various environmental issues, reports of progress or proposed action, reviews, evaluation of land development ordinances being written or revised, and the outcome of joining with other Township officials for special events and programs.
Resources
Meetings
Meetings are held at 7:00 pm on the 2nd Tuesday of each month in the Conference Room at the Doylestown Township Municipal Building.
Next Scheduled Meeting
| Meeting | Date | Agenda |
| --- | --- | --- |
| Environmental Advisory Council | December 12, 20237:00 PM | N/A |
Members
| Name | Title |
| --- | --- |
| Dr. James Baldassarre | Chairperson |
| Heidi Shiver | Vice Chairperson |
| Jeannine Mitchell | Member |
| Curtis Sawyer | Member |
| Chad Clem | Member |
| Erich Neal | Member |
| Anne Woodbury | Member |
| Jennifer Herring | Board of Supervisors Liaison |
Invasive Plant of the Month
Created by EAC's Heidi Shiver
Prior Invasive Plants of the Month
Climate Action Plan
On October 18, 2023 the Doylestown Township EAC, in conjunction with DelVal One Health, presented as part of the community engagement process about climate action planning at the local level.
CAP Presentation Slides
More in Environmental Advisory Council